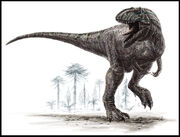 Hi this is my talk talk page, please feel free to contact me for any reason you want.
BIGGER THAN T-REX! It lived 90 million years ago. Giganotosaurus is 45 feet long and weighed 8 tons or more than T-Rex. It was bigger and allot more powerfull tan the well known T-Rex. It is now the largest carnivorous dinosaur known! =]
Edit count
Your edit count is 23 ahead of Raptor's. He has 235 when I last checked.
Categorising
Get off your considerably large arse and get categorising pages. We can't have any uncategorised pages or Wikia Spotlight won't have us. =)
600 edits
I HAVE 600 EDITS!
And all the pages are categorised. Now we have to categorise the Dinosaur Wiki pages and the images, which I can't be bothered doing. T-Rex 882 signing off for the day.
Gratz
Congratulations on creating November 2009's Featured Article!
Carnotaurus
Hey its me, I saw the Carnotaurus page, and, I could be wrong, but I think that dino was smaller than the page sais.
Yeah, I'll change it if ur ok with it, i checked the wikipedia article, and it sais smaller than iguanadon.
Thanks
Thanks :]
700 edits
I have 700 edits!
800 edits
I HAVE 800 EDITS!
900 EDITS!
I got 900 edits today!!!!!!!!!!!!!!
You sadoo =D
...
1000 EDITS!!!!!!!!!!
I GOT 1000 EDITS!!!!!!!!
T-Rex 882 has 1K edits!
Sado above...
OMFG!!!
OH MY F****** GOD!!!!! DID YOU ACTUALLY SPELL ANTIDISESTABLISHMENTARIANISM CORRECTLY? =O
WELL DONE! =D
10:57, May 27, 2010 (UTC)
Try spelling PNEUMONOULTRAMICROSCOPICSILICOVOLCANOCONIOSIS. And no, I wasn't looking at a dictionary when I spelt that. I can also do HIPPOPOTOMONSTROSESQUIPEDALIOPHOBIA. I do these sort of spellings every week. (I get them all right, even though I'm only 11. ANTIDISESTABLISHMENTARIANISM is one of the easiest I've had.
Ad free
Hi! Would you like this wiki to be ad-free? I'm looking for wikis to be part of a new program which would remove all ads from the wiki for $19.95/month.
If you are interested, please be visit here to sign up. Let me know if you have any questions! - sannse (Help Forum) (blog) 21:38, May 27, 2010 (UTC)
Aliwalia
A dinosaur page on the wiki is named Aliwalia, Aliwalia is actually the same as Eucnemesaurus, so should I rename the page? (I am an admin now)
I have renamed it, since Eucnemesaurus is its official name. If you have any disagreements I could always move it back?

Hi, Giganotosaurus, can you please tell me how to make a direct link to a page I have made from the list of articles?
Pyroraptor331 (talk) 00:00, September 13, 2013 (UTC)