Jurassic World: Dominion Dominates Fandom Wikis - The Loop
Play Sound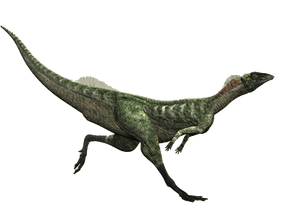 Lesothosaurus is an omnivorous ornithischian dinosaur. It was named by paleontologist Peter Galton in 1978, the name meaning "lizard from Lesotho". The genus is monotypic, having only one valid species, Lesothosaurus diagnosticus, within the genus.
Classification
Lesothosaurus was originally considered an ornithopod. However, more recent work by Paul Sereno has suggested that it may actually represent one of the most primitive of all known ornithischian dinosaurs. The taxonomic history of Lesothosaurus is complex and it has long been confused with Fabrosaurus, another small ornithischian from the same locality. In 2005, Richard J. Butler published a new phylogenetic study of ornithischians, in which he proposed that Lesothosaurus was a basal member of the clade Neornithischia, which includes pachycephalosaurs, ceratopsians and ornithopods. Alternatively, this dinosaur may be a very early thyreophoran, a member of the group including the armored stegosaurians and ankylosaurians.[1] Stormbergia may represent the adult form of Lesothosaurus.[2]
Description
Lesothosaurus was a 1 metre (3.3 ft) long, bipedal plant-eater. Its long legs, small arms, and slender tail all suggest that it was a fast runner; it would have resembled a large lizard walking bipedally.[3] The small skull of Lesothosaurus was short and flat, with large eye sockets. It had large cavities for the eye and jaw muscles. It had a short, pointed snout, and the lower jaw may have ended in a beak. Its teeth were pointed with grooved edges, and would have been ideal for chewing tough plant matter. The skull was mounted on a short but flexible neck.[3] The hind limbs of Lesothosaurus were much longer than the forelimbs, which were quite short with small 'hands'. The hand had four well-developed fingers and a smaller fifth finger. The length of the rear legs indicates Lesothosaurus was a fast, agile runner. The distinctive femur has a unique femoral head not seen in other dinosaurs. Lesothosaurus lived in the hot, arid conditions of Lesotho and South Africa, during the Early Jurassic. Remains of Lesothosaurus have been collected from the Upper Elliot Formation, dating it to the Hettangian to Sinemurian portions of the Early Jurassic.
Trivia
Another dinosaur, Fabrosaurus, may be Lesothosaurus as well.
See Also