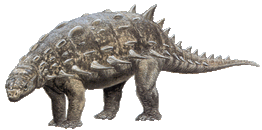 Hylaeosaurus (/haɪˌliːoʊˈsɔːrəs/ hy-LEE-o-SAWR-rəs; Greek: hylaios/ὑλαῖος "belonging to the forest" and sauros/σαυρος "lizard") is a herbivorous ankylosaurian dinosaur that lived about 136 million years ago, in the late Valanginian stage of the early Cretaceous period of England.
Hylaeosaurus was one of the first dinosaurs to be discovered, in 1832 by Gideon Mantell. In 1842 it was one of the three dinosaurs Richard Owen based the Dinosauria on. Four species were named in the genus, but only the type species Hylaeosaurus armatus is today considered valid. Only limited remains have been found of Hylaeosaurus and much of its anatomy is unknown. It might have been a basal nodosaurid.
Hylaeosaurus was about five metres long. It was an armoured dinosaur. It carried at least three long spines on its shoulder and shorter spines at the side of its neck.