Line 2:
Line 2:
 

[[File:Edmontonia1201807274.jpg|thumb|267px]] '''Edmontonia''' was an aromored dinosaur that lived in the late '''Creataceous''' Period. It was a distant relative of '''[[Ankylosaurus]]. '''Only partial skeletons have ever been found, and remain not realy known at it for the one of the movies at it like a Udanoceratops of it now like a one.

 

[[File:Edmontonia1201807274.jpg|thumb|267px]] '''Edmontonia''' was an aromored dinosaur that lived in the late '''Creataceous''' Period. It was a distant relative of '''[[Ankylosaurus]]. '''Only partial skeletons have ever been found, and remain not realy known at it for the one of the movies at it like a Udanoceratops of it now like a one.

 

==Facts==

 

==Facts==

−

Length=23ft

+

Length=

 
 
 

Meaning of Name=from Edmonton

 

Meaning of Name=from Edmonton
---
Revision as of 03:17, 25 March 2012
Special Page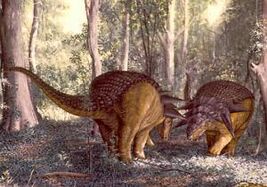 Edmontonia was an aromored dinosaur that lived in the late Creataceous Period. It was a distant relative of Ankylosaurus. Only partial skeletons have ever been found, and remain not realy known at it for the one of the movies at it like a Udanoceratops of it now like a one.
Facts
Length= 7 meters23ft
Meaning of Name=from Edmonton
Edmontonia would have fed on low lying vegetation.